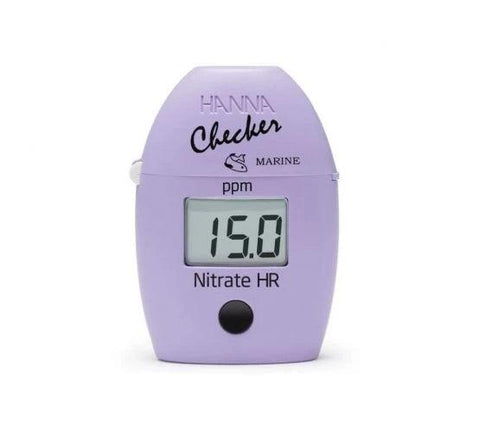 The HI-782 Marine Nitrate High Range Colorimeter is specifically designed to quickly and accurately determine high levels of nitrate for saltwater aquariums
 and marine applications. With a digital read out, there is no more struggling to determine colours visually.


Measurements with a range up to 75.0ppm
Less complex laboratory grade accuracy - Requires only 1 reagent
Simple, intuitive operation (single button)
Compact and precise whether at home, at work, or on-the-go

Each HI-782 is delivered in a case with custom insert and supplied with:

Sample cuvette and cap (2 pcs.)
Marine Nitrate High Range reagent starter kit (reagents for 10 tests)
3 mL pipette (1 pc.)
1.5V AAA Alkaline battery (1 pc.)
Instruction manual


Nitrate is the final step in the Nitrogen cycle. Excessive amounts of nitrates in saltwater aquariums facilitate the growth of undesirable organisms such as algae and dinoflagellates.
The HI-782 Nitrate Checker HC uses the Zinc Reduction method, a no filter process, to measure the concentration of nitrate colorimetrically, ultimately reducing the time of each test and leaving no additional waste.

With higher range measurements, such as the HI-782 which ranges from 0.0 up to 75.0 ppm (as NO3–), there is also no dilution procedure needed.