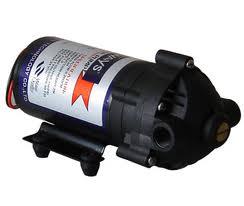 In order to produce water to the full capacity of the membrane it is necessary to supply the system with water at a high pressure. Domestic water supplies struggle to meet 35psi.

These Booster pumps will aid your RO system in producing water to its full capacity whilst minimising waste water and pay for themselves within weeks.

Comes as a complete package, including pump, fittings and transformer. 

These pumps have the additional benefit of being self regulating, this prevents membrane damage due to overpressure causing membrane film stretch. This new version incorporates the self regulating mechanism within the pump head without the need for external tubing. Note this is our newest model with special anti-vibration feet for even quieter operation. 

These pumps can be used for most Reverse Osmosis systems from 36 to 150GPD on an intermittent duty. *NOTE* This means that they should not be used for commercial applications such as window cleaning, commercial pumps are available, please ask. This pump should not be used for periods longer than 6 hours at a time, a 1 hour cooldown period between uses must be allowed. Failure to follow these guidelines will result in pump failure.

All Osmotics pumps and transformers are CE and RoHS certified for sale within the UK.
Self Regulating model to prevent membrane damage across a range of operating pressures
Robust Anti-vibration feet for even quieter operation - a UK first!