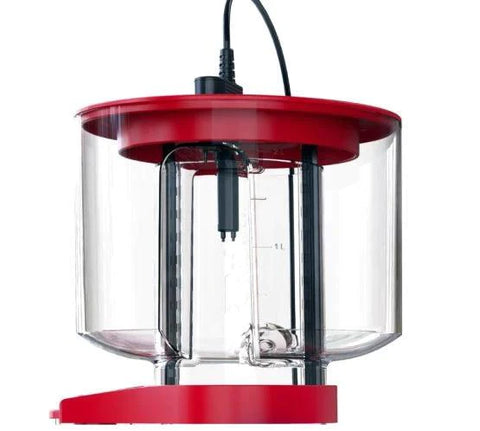 Efficient. Quiet. Smart.


The REEFER DC Skimmers include self-leveling technology that prevents over-skimming and full cups from spilling while continuing to aerate the water.
Self-Leveling.


The Self-leveling feature is activated whenever the wetness of the foam in the neck exceeds the user-adjusted "over-skim" threshold. The intensity of the pump is immediately reduced to prevent the over-skim and then gradually increased or decreased, a bit at a time, according to the foam wetness, until the preset pump intensity is reached and stable skimming is restored.

Optimal Waste Removal

The Reefer DC Skimmer features a combination of self-leveling tech, a PSK DC pump, proportionally sized venturi, a bubble diffusor and reaction body that optimizes air-water contact time.


Sensor to pump


The REEFER DC Skimmers come with a dual-action solid-state sensor that monitors foam wetness and waste level, allowing the ReefRun Dual Controller to regulate the DC Pump accordingly.


Quiet


The REEFER DC Skimmers are exceptionally quiet due to the PSK DC Pump, rubber connectors and an air intake silencer.

The Reefer DC Skimmer is run via the ReefRun Dual Controller which is sold separately as it can also operate the ReefRun DC return pump at the same time!

Combine them into your ReefBeat eco system for more efficient reef keeping.

And use the ReefBeat
Quick-actions
Create your unique Feed scenario by switching selected pumps off or run at different intensities at different times for different durations.

Select the order and timing between switching devices back on after a maintenance shutdown, such as allowing a few minutes for your return pump to restore water levels in sump and aquarium before switching on the skimmer, wave pumps and dosers.

User friendly features
Precision geared valve for positive flow regulation.
Quick release pump holder for ease of maintenance
1-meter valved waste drainage hose.
3 set-up options with skim regulator facing either the left side, right side or back.
Built-in manual neck cleaner.
Specification
53 cm / 21"
Height
PSK DC-1200
Sicce pump
500/130
Air flow (Lph/Gph)
1000/265
Water flow (Lph/Gph)
16-20 cm / 6-8"
Recommended water height
20 W
Power consumption


Ratings


SPS (L / Gal)
300 / 80


Mixed Reef (L / Gal)
600 / 160


Fish Only (L / Gal)
900 / 240