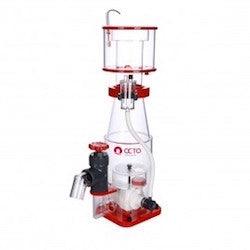 Featuring a small footprint, the OCTO series Regal space saving skimmer (Regal-S) is an in-sump protein skimmer ideal for aquariums with limited sump space.

Regal-S further features high-quality cast acrylic body construction, easy disassembly for maintenance, a precision control gate valve and a hybrid conical body which helps to naturally stabilise and concentrate the organic rich foam as it rises

In addition, Regal-S is run by our very own controllable VarioS skimmer pump which features a pinwheel impeller, a detachable controller, high quality ceramic shaft and bearing to reduce wear and tear, and the latest variable speed flow technology for refined control, enhanced performance, energy-efficiency and safer operations.

Unlike the vast majority of circulation pumps which uses alternating current (AC), our VarioS pump boasts several key advantages over traditional AC pumps, namely, higher energy efficiency, safer operations at a working voltage of 24V and most notably, the variable speed control to adjust the ideal mix of air and water flow into the skimmer.

Enhanced Control With the VarioS controller, users have control over the flow rates by selecting amongst five preset speed settings; indicated by five lit LEDs. A 15 or 60 minute feed mode can also be engaged or disengaged with the push of a button. In addition, a rotatable volute allows users to adjust the output orientation horizontally or vertically (up or down), depending on their needs. Under normal usage, VarioS pump has an expected lifespan/product life expectancy of 10 years.


Features & Benefits
Superior performance
VarioS DC pumps specifically made for protein skimmers
Controllable and variable speed for energy-efficient and silent operation
Easy Maintenance
High quality hand-made solid cast acrylic construction
Hybrid conical body
High volume air intake
External pump placement maximise reaction within chamber
Automatic drainage system
Technical Data:
Wet/Dry - Wet
Pump Power - 70w
Cup Diameter - 300mm
Neck Diameter - 170mm
Footprint - 385mm by 330mm
Height - 650mm
Output Size - 50mm
Tank Volume - 2800L
Skimmer Pump:
Model - VarioS 6-S
Wet/Dry - Both
Max Air Intake - 2400L/PH
Power - 70w
Maximun Flow Rate - 2000 LPH
Connection Size (Outlet) - 40mm