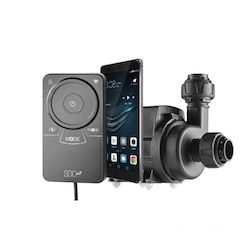 SYNCRA SDC are the latest generation of SYNCRA pumps and are equipped with integrated intelligence systems to meet the needs of advanced recirculating applications. With programming freedom, controllability is finally coupled with power, energy efficiency, inline or submersible use, and low heat production. SYNCRA SDC  are managed by an easy to use controller and with the free download of the new ContrALL app these pumps can be kept under control and programmed wherever internet access is available. ContrALL includes an alert system which keeps the end user updated in real time with the status of the pump.

The Sicce Syncra SDC pumps have a capacitive controller that lets you fine tune the flow through the pump making the perfect aquarium return pump. The SDC Controller comes with built in WiFi, and by downloading the free ContrALL app for your IOS or Android device will let you control the pump from anywhere in the world. Through your phone or controller you can customize how the pump flows and with 5 different pre-set modes,the SDC pumps are ideal for closed loop systems.
Top characteristics
WiFi included - FREE APP ContrAll from smartphone. NO extra receiver
ALERTS directly on your mobile in case of problems of the pump.
Fully custom setting.
WET & DRY Application
Hose fittings included
Self cleaning impeller
Thermal protection to prevent overheating
Rubber feet
FREE DOWNLOAD of ContrALL APP. 
App allows:
ALERTS for:   1. Blocked rotor 2. Dry running 3. Loss of signal
Water temperature sensor
Syncronize and customize setting for each individual pump connected
Also includes direct controller for the pump that has:
5 Preset modes - All the modes can be100% customized according to the user's needs
ECO - 7 hour preset at a customizable lower flow rate
MODE - 5 pre-set modes to create different water movements
PAUSE - 10 min pump stop which can be programmable at any time
Magnet support
Specifications

Dimensions - 15,9 L x  9,4 W  x 11,4 H cm
Flow Range - 3000 - 7000 l/h
Max Head - 5 m
Cable Length - 3 m
Power Consumption - 20 - 65W
Voltage - 24VDC
Warranty - 5 Years with online registration
Internal or External Use