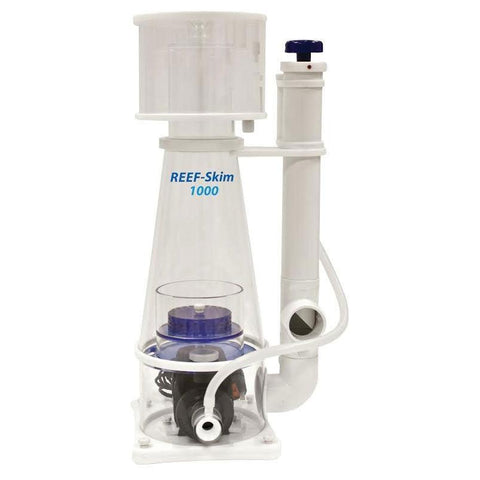 This professional, high performance protein skimmer is a great accessory to any reef system. Its compact in size and its space-saving design allows easy installation in most sump systems. The skimmer comes with an Integral DC needle wheel pump which is designed to deliver the optimum flow rate and performance. The body design ensures optimum water-to-air contact time. The Patented bubble diffusion plate system ensures uniform dispersal of micro fine air bubbles across the entire skimmer column.
The unique, needle wheel injection system has been developed specifically to ensure the perfect mix of micro fine air bubbles and water for optimum skimming. Its unique, innovative air intake silencer offers precision adjustment of air flow into the skimmer for optimum performance and also allows simple connection to an ozone generator. Large, easy to remove collection cup with drain system, ensures all parts of the skimmer can be accessed for effortless maintenance and cleaning. Simple water level adjustment dial allows water level and flow to be finely tuned to ensure optimum foam consistency and highly efficient skimming.
The skimmer range can handle aquariums from 50ltrs upto 2000ltrs so there's a skimmer to suit all sizes of marine tanks.
Key Features:
High performance, professional AC protein skimmers
CNC precision engineered from the highest quality materials
Advanced, cone-shaped design ensures the optimum water-to-air contact time for intensive, efficient skimming
Patented bubble diffusion plate system ensures uniform dispersal of micro fine air bubbles across the entire skimmer column
Innovative air intake silencer
Water level adjustment dial
Supplied with custom-made needle-wheel pump
Ozone compatible
Seven skimmers in the range for aquariums from 50 - 2000 litres
Needle-wheel injection system