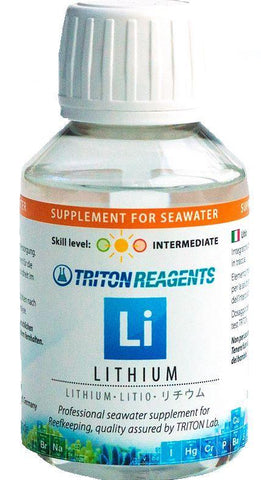 Lithium trace element seawater supplement. Lithium is an important element for overall health of reef aquaria.
When used in conjunction with TRITON Lab ICP testing aquarists are now able to make targeted single element adjustments. Only TRITON delivers advanced aquarium husbandry with ease-of-use. For dosage information please check the DOSE tab of your ICP analysis.
The TRITON macro and trace element supplements range is supported by over a decade of scientific research into the chemistry of natural and closed system seawater. With ten's of thousands of seawater analyses modelled for elemental behaviour and interaction nobody understands seawater like TRITON.
Notes for usage:
Lithium if dosed incorrectly can be dangerous to your system inhabitants, please ensure that your Aquarium Profile volume is filled out correctly and do not exceed the dosage instructions provided from your ICP-OES analysis.
How to use:
The supplements should be dosed as per recommendations from your ICPOES test results. You will be advised of either a correction dose (to bring value up to set point) and/or a maintenance dose