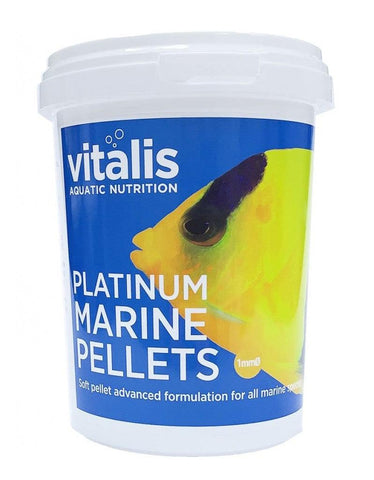 Packed with protein, these pellets are made with fish and fish products to ensure that your aquatic life receives the best diet possible. It can be used as a complete food or used to supplement other foods.
This food is especially good to use during times of fish stress, such as moving to a new tank, when stress can acerbate infections and diseases. Added vitamins and minerals will support a healthy diet and boost colours too.
Vitalisa recommend that this food is used on a rotation basis with their Marine Pellets for a healthy, balanced diet.
Recommended for Marine Angelfish, Gobies, Damselfish, Clownfish, Butterfly fish, Wrasse, Hawkfish, Pufferfish, Moray eels, Parrotfish.
Key Features:
Soft sinking pellets
Promotes a strong immune system
Boosts colours
Natural recipe from sustainable ingredients
Low waste formula
Contains: Fish and fish derivatives, derivatives of vegetable origin, molluscs and crustaceans, oil and fats, vitamins, minerals.
Analytical Constituents: Protein 49.3%, Moisture 20.7%, Inorganic Matter 18.8%, Fat Content 9.4%,Crude Fibre 1.7%.